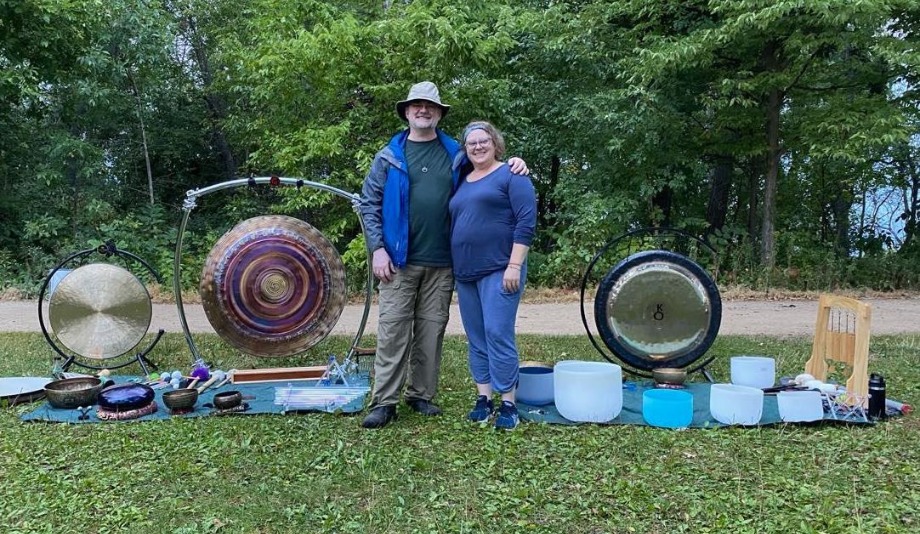 Check out Madison Sound Collective
Meet the Collective
Krista Pfohl, is a certified Reiki Master Practitioner Teacher and owner of The Awakened Center LLC where she has been offering sound baths for 6 years. Jeremy Anacker, is a certified Reiki Master Practitioner Teacher, Aura Seer, owner of Affinity Transformations and Reiki Healing Madison. He offers a multitude of classes to help people progress in their own practice and awareness. Both have active practices in Madison, WI.
After years of friendship, Krista and Jeremy felt a deep calling to work together to offer vibrational healing sessions.
With sound compositions they evoke the sacred: revitalizing the wholeness and peaceful power that lives within you.
Stay updated to experience these powerful shifts at upcoming events at Picnic Point, Electric Love Yoga Studio and Unity Church of Madison.
How Does Sound Healing Work

Singing Bowls and Gongs use the vibration to evoke the "energetic self" to alleviate stress, anxiety, depression and shift energetic blocks. Singing bowls and other instruments create a peaceful and restorative environment for powerful transformation!
What to Expect
Once you arrive you'll be greeted into the space and be shown where to settle in. Please bring a yoga mat blanket and/or bolster to allow for a more comfortable experience. After a brief introduction, the session begins with a short centering to ground into the space. Jeremy and Krista use gongs, singing bowls and a variety of instruments for powerful vibrational healing. (usually 45-55 minutes). You will be welcomed back from your experience gently and gracefully until you are grounded again. Time is allowed for sharing or questions.