Gratitude Practice Uplifts Everything
Gratitude for Kiki and Gongs
As I practice gratitude for the many gifts in my life, I change the chemical reality in my physical body and in my energy field.
I am grateful for my cat Kiki and for the abundant support from so many individuals who have utilized my healing and Intuitive Coaching services over many years. I have recently been able to add sound and gong blessings to my personal sessions and in my group facilitations. Look at the aura on my Shaman Gong. (((gratitude))) On the left you see a frequent healee who loves to let Kiki do her Reiki practice.
Gratitude Benefits and Practice

04/19/23
When we express gratitude and receive the same there is both a physiological and an aura energy benefit. Our brain releases dopamine and serotonin, the two crucial neurotransmitters responsible for our emotions, and this makes us feel good. They enhance our mood immediately, triggering a release from the warehouse of uplifting chemicals that so often lie dormant in the brain. This creates a joyous state of being that also has an energetic dimension. Barriers to the powerful and uplifting energies from our spirit drop away. Vital charges of energy unleash and the aura upgrades in potentially miraculous ways.
What are you grateful for? Every time you make a statement of gratitude in your mind, speak it out, write it down or express it in some way you activate uplifting brain chemicals and energetic charges in the aura.
I am very grateful to have manifested so much support over so many years as I am still able to create community and keep my practice going. Recently, as financial support through my healing practice has been so abundant, I was able to purchase of a pair of gongs and other instruments for the purpose of creating sound blessings in my sessions and in groups settings. I am able to give back to my community while using my rhythmic and musical talents. In the weeks ahead I will be teaming up with the very talented crystal singing bowl and gong healer Krista Pfohl. I am very grateful to her for her amazing spirit and unity consciousness as we are able to work together effortlessly and easily.
You are invited to amplify your ability to access the physiological and energetic benefits in great mindsets in the various group experiences that I am offering. See links below.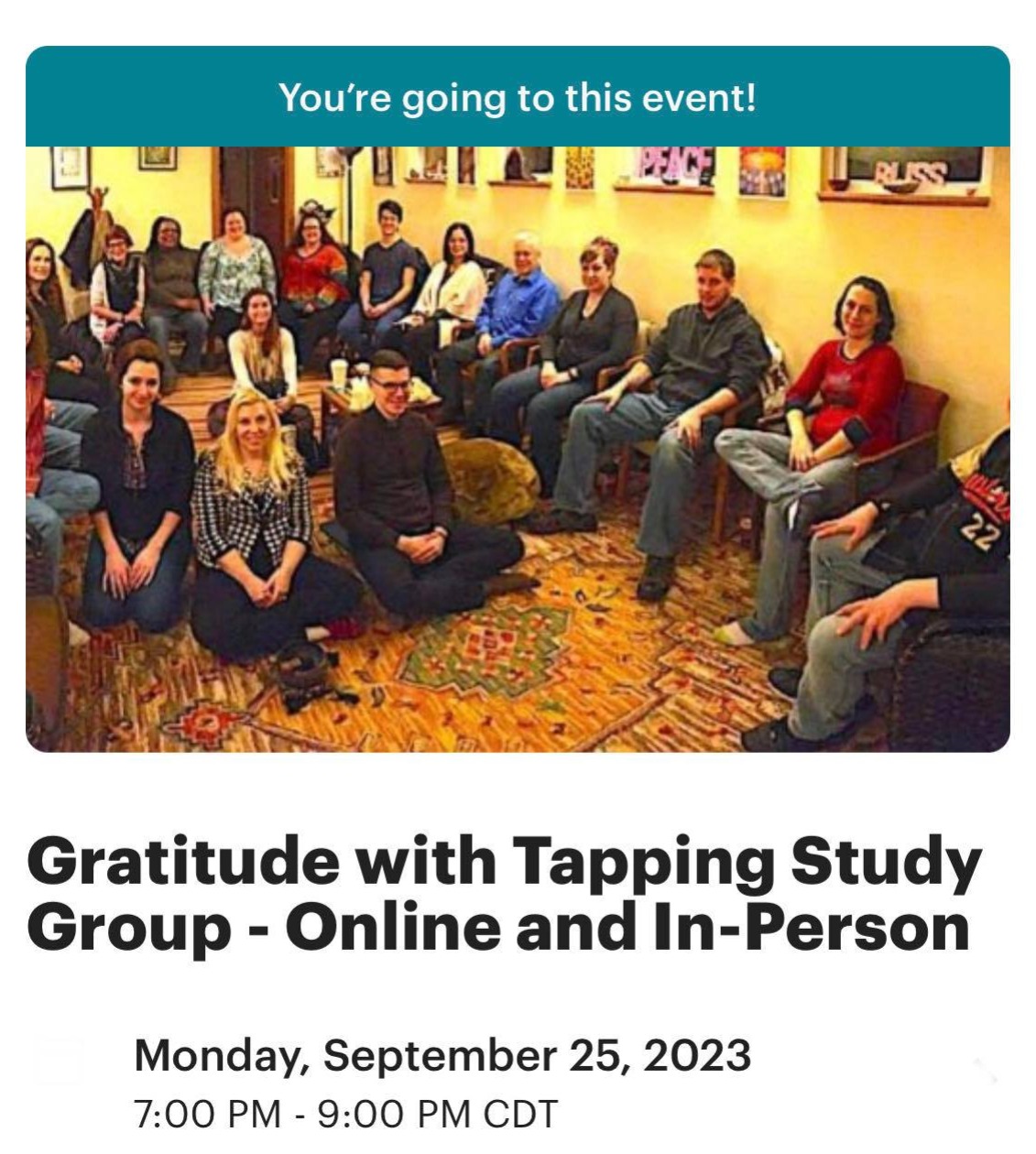 Come to this monthly circle, be reminded and discuss details about how to upgrade your energy self and your life through practicing gratitude. Everyone in the circle will have a chance to share what they are grateful for. Expect to hear uplifting stories and leaving the group energized and really ready for the life opportunities ahead.
Discussion: The correlated monthly chapter from the book "Living in Gratitude", by Angeles Arrien. Bring your copy of the book if you have one and please know that this book is not required; simply come as you are.
To learn about EFT Tapping see videos created by Jeremy:
Comprehensive EFT Tapping Intro Part 1
Comprehensive EFT Tapping Intro Part 2
EFT Special Focus - Dismissing Energy Tangles

Like Minds Flock Together
Good practice is easy enough to understand. It's natural for like minds to flock together. It often takes community to stay inspired and it often takes classes to understand what new approaches to healing and awakening would be helpful. See upcoming events on our Booking Page.