Online Healing and Coaching
Amanda and Jeremy dialogue with you online before running our one hour session. They provide a recording of our aura and intuitive feedback as they dialogue about your particular energy field. The challenges that are given are helpful for breakthroughs in healing and transformation on many levels. Contact us now for your next healing experience. You deserve it!.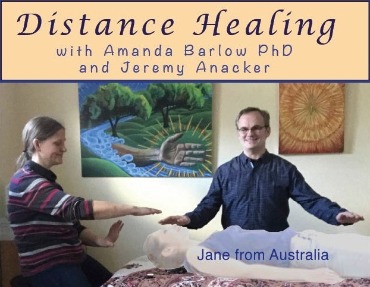 Amanda and Jeremy Separately
ThetaHealing Practitioner - Intuitive
Amanda will typically dialogue with the client to identify the limiting beliefs and stories that they are using to create or recreate their perception of reality that keeps them from living the life that they truly want and deserve. There is absolutely no difference between online and in person sessions.
Aura Seer - Reiki Master - Coach
Jeremy watches and experiences the human energy field and detects critical blocks, patterns and interruptions in the client. There is a natural healing effect as feedback, coaching and challenges are given. Individuals can also request a channeling experience for any given session.
Contact us now for your next healing session
Amanda Barlow PhD: Her knowledge about the transformation of DNA through thought mechanices and her acute intuitive perception optimize the benefits of her ThetaHealing® healing method.
Cost: $175
Jeremy Anacker: His extensive transformation background with early pioneers in the Reiki Community and his Auric site are profound gifts that are included in a personal energy healing session. Pay in advance for 5 session package and recieve an aura drawing for free.
Cost: $100
Amanda and Jeremy together: There is no better match up of two people as Amanda's style is as focused as a laser beam and Jeremy's style gives one a strangely beneficial bird's eye view. Experience it for yourself and expect to be coached in powerful ways and to be given insight that will show you how to transform in new ways.

Cost: $250
Aura Feedback: Jeremy Anacker has been able to see the human energy field all of his life. Come for a reading of your energy field alongside coaching on how to apply techniques to get you to the peaceful and powerful energetic space that you deserve to be in.

Cost: $100
Reiki Session with Rhammah Channeling: Take time out and rest on the healing table or in chair as Jeremy brings the Reiki blessing while in a channeled state. A recording of the personalized transmissione and facilitation from the Rhammah Masters will be made available to you later by way of Dropbox or CD recording. See link for Rhammah Channeling

Cost: $100